PROVEN TO REDUCE RELAPSES BY OVER HALF AND SLOW DISABILITY PROGRESSION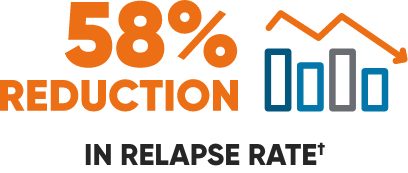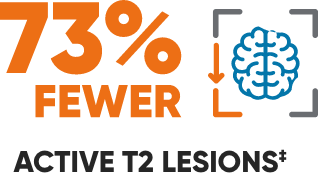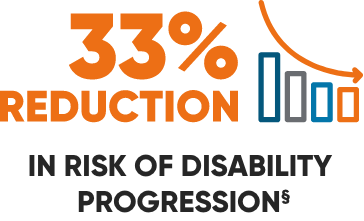 MAVENCLAD was studied in RMS patients to measure how well it works (efficacy) and to evaluate its safety. The trial compared MAVENCLAD to placebo at 96 weeks in these 3 ways.
Learn more about this data and the efficacy of MAVENCLAD at MAVENCLAD.com or sign up for more info below.
†Rate of relapses: MAVENCLAD 0.14 vs placebo 0.33.
‡Mean number of lesions: MAVENCLAD 0.38 vs placebo 1.43. Median number of lesions: MAVENCLAD 0 vs placebo 0.67. The mean relative reduction reflects that not all patients had lesions.
§Disability progression: MAVENCLAD 13% vs placebo 19% with 3-month confirmed EDSS progression. This analysis was not adjusted to account for the number of analyses performed and should be considered exploratory.